Slate Roofs
Slate roofs are one of the most common and straightforward roofing solutions for Scottish homes. We have a huge range of slate tiles for you to choose from. To discuss the most suitable option for your home, contact the Roofing Advice Centre today.
Flat Roofs
Flat roofs are available in many different materials. We provide advice on which design and material will best suit your property.  Simply get in touch to find out more about how we can help, obtaining up to 6 vetted quotes for your flat roof.
Conservatory Roofs
There are numerous options with regards to your conservatory roof.  Whatever option you choose, you need the reassurance that it will let you use your conservatory all year round. Stay warm in the winter and cool in the summer.
Tile Roofs
There are a range of factors which can affect the appearance, design and performance of a tile roof.  Planning restrictions may apply, along with weather conditions and how your final roofing choice suits your home. Vast range of tiles available for you to choose.
Rubber Roofs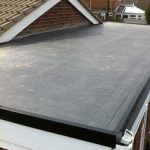 We are able to cater for any flat roof size.  Whatever material has been used on your roof, we'll provide the highest quality of workmanship.  Our range of flat roof materials include Rubber, GRP Liquid & Felt Membranes. Contact for more information.
Roofing Repairs
We are able to help out with all aspects of roofing repairs.  This includes, tiles, slates, chimneys, gutterings, dormers, flashings, ridges, soffits and fascia. Don't hesitate to give us a call for impartial advice on how we can help.
TRUSTED TO WORK WITH ORGANISATIONS SUCH AS ENERGY TRUST SCOTLAND AND CARE & REPAIR FOR THE ELDERLY.
As well as all the above roofing services, we can also advise on any of the following: pitched roofs, felt roofs, fascias and soffits, Velux windows and guttering choices.  We cover all areas within Central Scotland.